You've been a teacher for years. Many of your students have gone on to become professional illustrators.  What's your super secret formula for churning out amazingly talented artists?
This question has many different answers and combinations of factors. First, for me, the students want to learn and need to work up their drawing and painting skills. We do a lot of drawing in traditional mediums and methodologies, challenging you on how to look, what you are looking at, pulling it apart, and putting it back together on your paper. I also had the students think about what they were trying to bring out in their drawings. Are surfaces important? What is the overall feel of your drawing? And how do you want people to look at your composition? That covers some of the beginnings. But I do feel that the students have to want to try different ways of working, understand line, line weight, perspective, value, composition, and more elements that make the whole drawing/artwork come together.
Art is such a complex process. The more you learn, the more you have to challenge yourself to grow.
The good students, I think of as sponges. They soak up information and ask for more. That makes me work harder as a teacher to give them more information, more techniques, and challenge their ideas. If they fail, they get up and do it again better. It's all about creating the best you can, not just being happy with anything.
It is hard work, and those that work hard and grow will succeed.
A teacher is only as good as the quality of student they work with. It is a two-way street, and I've been lucky to have many students who wanted to learn, failed, and got up and kept going. They showed me their spirit of creativity, and I, hopefully, gave them the tools to start down the artistic road. So many have gone on, and to see them grow and make better art is just a wonderful feeling for me.
So there is no secret formula. when I had a classroom of hungry students that wanted to do art, we did. When they didn't care, it was painful as a teacher to see them shut out everything and only want to do what is required in a minimal manner.
© Mark A. Nelson. All rights reserved.
You create deliciously detailed ink drawings. What is it about that medium you love so much?
I love ink, pencil, paint, lithography, etching, and the computer. These are all tools you can use to get your ideas out. Each tool has different qualities.  Ink has a rich black that no other medium can give you. It is also very unforgiving. You have to think more about how you want to use your strokes/marks to create your image. It is one of the most basic drawing tools and gives fine marks, lush blacks and values in hatching or washes. Also, it is challenging not being able to erase your mark or fidget with your strokes. You get what you put down, and onward you go. Ink also gives you some amazing textures and surfaces that I love to work with.
© Mark A. Nelson. All rights reserved.
What mentors, books, or philosophy has helped you along your artistic journey?
Research is something I put a lot of value on. Today we have a world's worth of knowledge at our fingertips. My studio is still filled with books. I go back to having to do research in the library, so I bought books at sales and asked for books for all the holidays. There is so much great information and imagery that surrounds us.  And now, with the internet, you can look up almost everything! There is no longer any excuse when someone wants you to draw a dragon tree. The answer is a few clicks away. Or, I get my giant tree book out and find it, and, in my case, I have a book on dragon trees.
The teachers I learned the most from were those that challenged me the most. They helped shape my skills, gave me direction, and fueled my passion for the arts. They will always be with me in many ways. They set high expectations/standards in the classroom and you had to really work hard for an A. The funny thing about grades, no one I have freelanced for has asked to see my grades. The answers show in your artwork.  What are your standards? What do you need to do to create a good piece of art? What do you want to do to grow and make better art?  
A comment that was made when I was in school: It's not the years in school that make you the artist, but the ten years after.  It's what you do with this knowledge, how you challenge your ideas, and build those strengths and conquer your weaknesses. It is up to you after school. Your teachers can't follow you around. Their job is to give you the information, and you have to use it. Once you are out there, it is up to you to be a professional.
I will also say, your classmates are also a great group of peers to learn from and share information. They will also show up along your path as an artist, so treat everyone with respect.
© Mark A. Nelson. All rights reserved.
What should artists keep in mind when attending a workshop?

It is very simple. You are here to learn. I am looking forward to watching how all the people work. There are so many answers to the different problems we face as artists. I want to see how different artists mix their palettes, how they build a sketch, what elements are important to them in composition and anything else I can learn.  In undergraduate school, I learned two types of palettes and since have learned more. This gives me different ways to solve the artist's problem. Do I want to glaze? Do I want to work from light to dark? Do I want to work from a toned background? And you find each way works, and it gives you different ways to work.
If you know all the answers, what good is a class for you? If you want to dive into the rich diversity of methods and thought processes, then the workshop is an amazing experience. An experience of gathering wood for your artistic fire.
I had one teacher who said to me: Some of the ideas we are talking about today will make sense later, after you have solved certain problems. They were right. I remember drawing and a bell went off in my head and I said, "That's what they meant!" Learning is a continuous process.
© Mark A. Nelson. All rights reserved.
Do you have any current or upcoming projects that you can tell us about?
I draw almost every day. So, if I am not working on a specific project, I do art for myself and try things. This has lead to a lot of side projects when I have bounced these ideas off writers and art directors. My newest project is a book featuring my fish drawings. I'm calling it FYSH…so far over 250 drawings and growing?
© Mark A. Nelson. All rights reserved.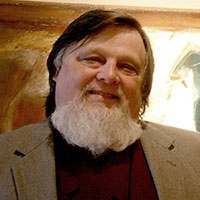 Mark Nelson is an illustrator, comics artist, and concept artist. He has worked for Marvel Comics, DC Comics, Dark Horse Comics, Kitchen Sink Press, IDW Comics, Wizards of the Coast, TSR and more. Mark has also worked for gaming and visual development companies including Raven Software, Big Rooster, Emergence Games, Sega Games and Pure Imagination Studios. Mark is also a former Professor of Art at Northern Illinois University and runs his own publishing company, Grazing Dinosaur Press, with wife Anita Nelson, an incredible artist in her own right.

Learn more about Mark at: