Fantasy Art Workshop's Illustration Intensive is a five-day workshop for aspiring and professional illustrators who want to take their art to a whole new level in an encouraging and creative environment, all while getting intense instruction from an award-winning faculty with decades of experience in fantasy gaming, video games, editorial, conceptual art, children's books, and more.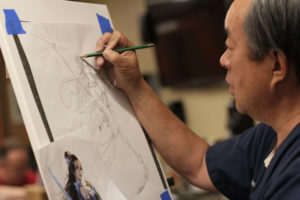 We called this an "Illustration Intensive" for a reason. Over five days, you'll be guided and inspired to create an amazing illustration for your portfolio in an intense but fun environment filled with camaraderie and creativity. Come prepared to be challenged. Illustration isn't just about creating a piece of art; it's about problem-solving to arrive at the best solution for the product, story, or advertisement that your illustration is accompanying.
You'll be working in the medium of your choice. Digital artists are welcome. A month or so before the workshop, we'll send a list of illustration assignments to attendees from which they will chose one. In the month leading up to the Illustration Intensive, attendees will work on the preliminary sketch or sketches for their assignment, which they will bring to the first day of the workshop. Attendees will get highly detailed critiques from the instructors about their sketch on that first day. Using that feedback, attendees will make revisions (it could take a few rounds), and then create their final drawing.
By day two, work begins on the final illustration. Over the next four days, attendees will get ample studio time to work on their illustration while receiving guided instruction and progress critiques from the instructors. Scheduled breaks will be taken for presentations, demos, and lectures on a variety of topics relevant to the field of illustration ranging from technique, building a portfolio, getting work in the industry, the business of being an illustrator, and much more.
Getting one-on-one instruction time with professional, working illustrators is an experience we know you'll benefit from and enjoy immensely. For an entire work week, you'll be surrounded by fellow artists from all walks of life, building lasting friendships and learning more about the world of illustration than you could hope to imagine. We hope you'll join us for this wonderful adventure and life-changing experience.
Photo courtesy of Alverno College.
The Illustration Intensive will take place June 18 – 22, 2018, at the picturesque Alverno College in Milwaukee, Wisconsin. We at Fantasy Art Workshop feel that Alverno is the perfect location for this year's workshop as this fabulous facility is just a 10-minute drive from Mitchell International Airport (MKE) and features spacious art facilities, catered meals, comfortable dorms, and easy proximity to amenities.
CHECK-IN will be Sunday, June 17th all day.
CHECK-OUT will be Saturday, June 23rd.
Special Trip to Milwaukee Art Museum
We are arranging a field trip to the Milwaukee Art Museum on Saturday, June 23rd. This is a fun trip and not mandatory. But if workshop attendees wish to join us, they should schedule their flight to leave in the evening as we will be at the Art Museum in the afternoon hours.
Scott Gustafson is an award-winning illustrator for The Greenwich Workshop, children's books, Dreamworks, Saturday Evening Post, and much more. Scott was honored at the 2015 Spectrum Fantastic Art Live ceremony by winning the Grand Master Award.
His new book publisher, Artisan, has just released Classic Storybook Fables after two years (and 49 new oil paintings) in the making! Artisan has also reprinted Classic Fairy Tales, Favorite Nursery Rhymes from Mother Goose and Classic Bedtime Stories, all of which are available from Scott's website at www.scottgustafson.com
During the Illustration Intensive, Scott will share his knowledge and experiences drawn from over 30 years as a professional illustrator. Walking through his process for producing Eddie, a novel for young adults, from concept and layouts to finished illustration. He'll also show a step-by-step of his approach to a full-sized oil painting.
Jon Schindehette is a veteran of the creative industry with a client list that includes Disney, Fox Entertainment, Warner Brothers, Hasbro, Wizards of the Coast, Harley-Davidson, Microsoft, Kodak, Price Waterhouse, Atari, Activision, Nintendo, Pokémon, Sony Entertainment, CBS, Bioware, Bethesda SoftWorks, Crystal Dynamics, and many more. He currently is the Art Director at Dire Wolf Digital. Jon is also the founder of ArtOrder – a publisher of books, tabletop games, and apparel that are inspired by creatives and their dreams to create their own products.
Jon will be giving a presentation entitled Creating an Effective Portfolio to Get Work followed by a Q&A session. He will also be available to do portfolio reviews for workshop attendees (A signup sheet will be available the first day of the workshop).
Dawn Murin works at Wizards of the Coast, inc. where she is the Senior Art Director for the popular worldwide game, Magic: the Gathering.
Dawn will be giving a talk about her path to becoming an art director, as well as what she does in her role as Senior Art Director for Magic: the Gathering. Her presentation will be followed by a Q&A session.
Jeff Miracola
Director of Fantasy Art Workshop and host of its award winning Painting Techniques Videos, along with nearly a hundred art tutorial videos on YouTube and Muddy Colors, Jeff has been a professional illustrator for more than 23 years. He's worked on brands such as Magic: the Gathering, World of Warcraft, Dungeons & Dragons, Planescape, Earthdawn, Shadowrun, Vampire, Werewolf: the Apocalypse, Star Wars, Mars Attacks, and more. Jeff has been an Artist Guest of Honor at GenCon, the world's largest gaming convention, and won numerous awards including a Silver Award in Spectrum: the Best in Fantastic Art.
In addition to his work in the fantasy industry, Jeff earned his stripes doing conceptual toy design, editorial illustrations, video game design, children's books, and activity books for Scholastic.
Learn more about Jeff at www.jeffmiracola.com
Aaron Miller
Aaron Miller is an award-winning, world-renowned fantasy artist and illustrator whose richly painted illustrations have graced such brands as Magic: the Gathering, Star Wars, and Dungeons & Dragons. Companies that feature Aaron's work include Wizards of the Coast, Blizzard, Fantasy Flight Games, Sony Online Entertainment, Mercury Retrograde Press, Catalyst Games, Posthuman Studios, and Alderac Entertainment Group, among others.
Aaron's oil and digital work has earned numerous accolades and awards. His art was included multiple times in the fantasy art field's prestigious publication, Spectrum: The Best in Fantastic Art. Aaron was MileHiCon's 2013 Artist Guest of Honor and Best Color Award Winner. GenCon, the world's biggest gaming convention, bestowed him with honors two years running: 2013 Best in Show and 2010 Juror's Choice Award.
Learn more about Aaron at www.aaronbmiller.com
Steve Prescott
A native to Cleveland, Ohio's eastside and a graduate of the Columbus College of Art & Design, Steve Prescott has been a freelance artist in the gaming industry since the mid 90's, working on products from such companies as White Wolf Games, FASA, Paizo, Blizzard, Copenhagen Creators, Hasbro, Animal Planet, Valve, and most notably for Wizards of the Coast where he has contributed heavily to both Dungeons & Dragons and Magic: the Gathering.
Steve won "Best-in-Show" at the 2007 GenCon, published a book of drawings in 2009 called AGGREGATE, and then another called Steve Prescott's Alphabet Book of Mythological Beings in 2016, has had work in multiple Spectrum: The Best in Fantastic Art annual publications, did all the illustration work for the app game SoulSpark, has done concept design work for D&D, Magic: the Gathering, Hasbro, Bethesda, Valve, and even worked on pre-production creature designs for the My Little Pony movie (yes, you read that right). Somehow in there, he finds time to hastily draw a cartoon to put in his daughter's lunch every day.
Learn more about Steve at www.rottface.com
Erica Lyn Schmidt
Erica Lyn Schmidt is a painter who specializes in traditional mixed media. She strives to put a spotlight on the beauty of nature and help people see something about the world that they might overlook. The focus of her work is exploring light and color with animals as her subjects.
She shares her love of art and birds as the Creative Director of the BirdWhisperer Project online art community. Her work has been featured on Every Day Original and selected for inclusion in the publication Infected by Art. It can also be found in scientific museums, children's books, and private collections.
In addition to creating fine art, Erica collaborates on creating greeting card illustrations with her husband Anthony J. Schmidt. They reside in Wisconsin with their artist-in-training daughter Penny.
Learn more about Erica at www.ericalynschmidt.com
Tyler Walpole
Tyler has been a valued illustrator in the entertainment industry since the year 2000. His clients include Marvel Entertainment, Warner Bros Animation, Marvel/Lionsgate, DC Comics, Blizzard, Wizards of the Coast, Paizo's Pathfinder, IDW, and Dynamite Entertainment, among many others.
His most widely seen work can be found almost anywhere in the form of licensed character images created directly for Marvel Studios. He has illustrated iconic images for every Marvel Studios movie since 2013, including: Captain America: Winter Soldier, Guardians of the Galaxy, Avengers: Age of Ultron, and Ant-Man.
Learn more about Tyler at www.tylerwalpole.com
Erika Taguchi
Erika Taguchi-Newton is a fine artist and illustrator, using traditional methods. By blending a unique style of delicate graphite work and many thin layers of acrylic paint, she achieves a dreamlike quality in her illustrations which explores nature, whimsy and storybook-like narrative. Her style is inspired by her love of classic children's book illustrations, animation and film, and vintage science fiction and fantasy book covers.
Born in Japan, Erika lived in many different places from Germany to Washington D.C.. She graduated in 1994 from the Art Institute of Fort Lauderdale, and still calls South Florida her home. She attends a small number of conventions such as DragonCon, GenCon, Spectrum Live, and IlluxCon, as well as a handful of art fairs in the Southeast. Erika has won awards at DragonCon and GenCon, and has appeared in Spectrum: The Best in Fantastic Art annuals.
Learn more about Erika at www.erikataguchi.com
Melissa Sue Stanley
Melissa Sue Stanley has spent most of her life in the small towns of northern Illinois, surrounded by lightning bugs, creek-beds, and dandelions. She began studying drawing and painting as a teenager at local art leagues and figure drawing workshops, and continues this practice today. Her work is collected internationally and has been exhibited in galleries across the US.
Melissa draws her inspiration from life and experience in the Midwest.  Memories of cicadas, storms, and endless fields are captured in mixed-media pieces that use all the tools in her studio. She also uses her work to explore themes of quiet magic and mystery – from bright garden kitchen-witchery to dark creatures lurking in the deep. All together, Melissa's work is building a larger narrative about living a fantastical life in the modern world.
Melissa lives and works with her partner, Max Bare, in Chicago, IL. Together they create comic books and murals, go for long walks with Rocko the wonderdog, and host the Chicago Drink & Draw Social Club.
Learn more about Melissa at www.melissasuestanley.net
Frequently Asked Questions
Do you offer a discount for students?
Yes, we do. If you are a student age 18 years or older and currently enrolled full-time in college, you are eligible for special student pricing. Use coupon code ii2018student during checkout to save $400 off the price of registration.
Some students have asked if they are still eligible for the event in June if they are graduating earlier in the year, like May. Yes, full-time students graduating in 2018 before the event in June are still eligible for the discount.
After you register, we will contact you for proof of full-time student status.
I'm a digital artist. Can I still attend?
Absolutely! The Illustration Intensive encourages all aspiring and professional illustrators to join us no matter what medium they choose to work in. Digitally created art is a HUGE part of the current illustration field. In fact, even those illustrators that work with traditional mediums need to have better than beginner knowledge of using digital tools.
Digital artists will need to bring their own laptops or other digital devices they use for producing their art, including all power cables and cables needed to connect the device to a projector if needed. Digital artists must also have those devices loaded with any software they will need.
Fantasy Art Workshop will be providing an inkjet printer and regular printer paper on site.
Will there be wi-fi available for workshop attendees?
Yes, there will be free wi-fi available all week to attendees of the Illustration Intensive.
Do I have to be creating fantasy art to attend?
Absolutely not. You can be working in any genre of illustration. Fantasy Art Workshop is running this event, but the faculty members have worked in other illustration genres including editorial, book, children's books, games, video games, and advertising.
Will art supplies be provided?
No, you will need to bring your own art supplies. However, Fantasy Art Workshop will be supplying some community supplies to spare you the trouble of traveling with dangerous materials. Fantasy Art Workshop will provide solvents (Gamsol), mediums (linseed oil, walnut oil), and drying agents (Liquin) for oil painters, as well as the containers to house those materials. For acrylic and other water-based painters, we will provide a selection of mediums (slo-dri blending medium, matte medium). We will also provide Murphy Oil Soap for the cleaning and care of brushes for both oil and acrylic painters. White Acrylic gesso will also be available to anyone that needs to prepare a painting surface.
For additional art supply needs, there is a Michael's art supply store conveniently located less than one mile from the Alverno College campus.
Digital artists will need to bring their own laptops or other digital devices they use for producing their art, including all power cables and cables needed to connect the device to a projector if needed. Digital artists must also have those devices loaded with any software they will need.
Fantasy Art Workshop will be providing an inkjet printer and regular printer paper on site.
Can I ship my art supplies to the workshop?
Yes, you can. Arrangements can be made for you to ship your supplies directly to Fantasy Art Workshop and we will have it available to you on the first day of the workshop. Your package must be clearly marked with your name and that it is for "Fantasy Art Workshop's Illustration Intensive". All packages must be sent to us earlier than two weeks prior to the start of the workshop. Please contact Jeff or Silvia to make arrangements for your shipment.
How do I get from Mitchell International Airport (MKE) to Alverno College?
I have special dietary needs. Can this be accomodated?
Alverno College's food services can cater to many dietary needs. Both Silvia and I are vegetarians, so you can bet there will be vegetarian and vegan options to the menu, as well as plenty for all the meat eaters 🙂 If you have specific dietary needs, such as the need for gluten-free meals, please let us know. Our food services representative at Alverno has said they can accommodate any dietary needs.
What are the dorm rooms like?
Dorm rooms are single occupancy rooms. The residential hall that houses the dorm rooms does have air-conditioning. Each dorm room is spacious and features a mini-refrigerator, microwave, drawers, closet, desk, chair, and bed. Linens are provided.
There is a shared shower and bathroom facility for women and a shared shower and bathroom facility for men. The shower facilities feature single shower stalls for privacy.
Are there private or shared bathroom facilities?
Each dorm room has its own sink and mirror. However, there are two shared bathroom facilities on each floor, one for men, one for women. The shared bathrooms also have private shower stalls.
Are there any special amenities to the housing?
Yes, here are a few of the amenities:
There is a small fitness center for our attendees to use for FREE (treadmills, elliptical machine, yoga mats, some free weights).
Laundry facilities will be FREE to our attendees.
Each dorm room comes with its own microwave and mini-refrigerator.
Each dorm room comes with its own sink and mirror. (There are shared bathroom and shower facilities with private shower stalls).
The dormitory is air-conditioned. It will be very comfortable in June.
While your breakfast, lunch, and dinner is included with your registration fee, there is also a Collectivo Coffee shop located in the school open every morning (but you have to pay for that coffee).
There is a common lounge area in the dormitory that has a full kitchen for those attendees that just HAVE to make a casserole, hehe.
There is FREE parking all week for attendees that are driving to the Intensive.
Can a friend or family member join me at the workshop?
Due to insurance requirements, the only individuals allowed to attend the workshop are attendees. That means anyone joining you on your trip to the Illustration Intensive must find other accommodations for the week and is also not able to visit you at the workshop. We apologize for any inconvenience.
Facility Photos and Video
By attending Fantasy Art Workshop's Illustration Intensive, you agree to our Code of Conduct policy and Anti-Harassment Policy. Please download these policies and read them carefully. Thank you.
Instructors and Guests listed have confirmed their commitment to attend the Illustration Intensive. However, the guest list and agenda is subject to change. Should advertised faculty and guests not be able to attend, ii2018 will do its best to bring in alternate talent. Such a change would not constitute grounds for registrant reimbursement.